Making a room reservation?
Please check the calendars below before completing a form. If a date is available, please complete the Book a Room form at least 24 hours prior to your reservation date. If you would like to reserve a room for the same day please call (715-536-7191) to ensure that the room is available. If you need to change or cancel your reservation please do so at least 72 hours prior to your reservation so that others may have the opportunity to use the room.
The meeting room space is available during our open hours:
•  Monday – Thursday: 10am – 7pm
•  Friday: 10am – 5pm
•  Saturday: 10am – 4pm
If you are making a request to reserve a room outside of our open hours, please contact the Director at the library at 715-536-7191 or director@tbscottlibrary.org to discuss reservation accommodations.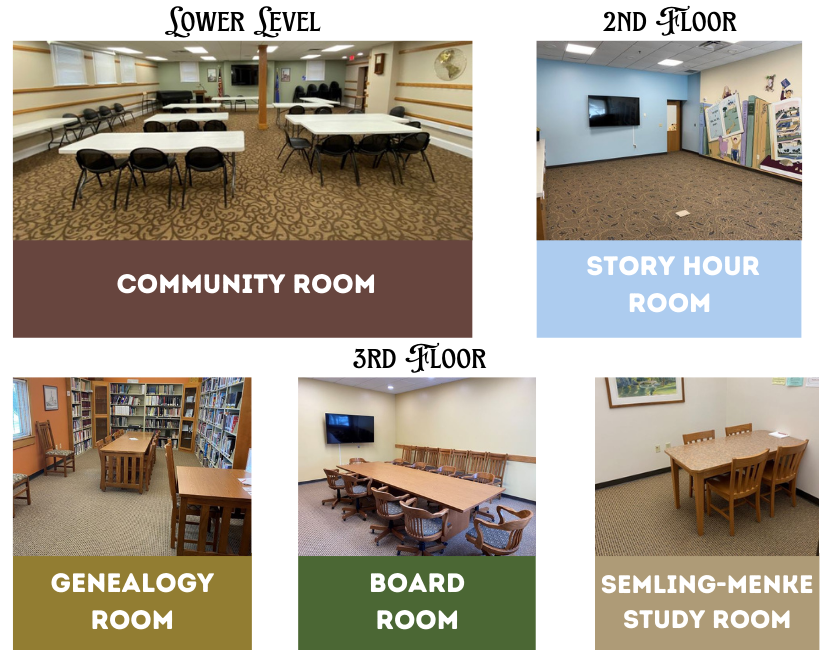 Community Room
Lower level
Capacity: approximately 75 people
Large mounted LED screen with wall mounted visual and audio connections
Hearing Loop
Kitchen with sink, refrigerator, & microwave is available
Story Hour Room
Youth Services Department, second floor
Capacity: 20 people
Sink is available
Genealogy Room
Adult Services Department, Third floor
Capacity: 10 people
Board Room
Adult Department, third floor
Capacity: 20 people
Mounted LED screen with wall mounted visual and audio connection
Sink and small refrigerator are available
Semling-Menke Study Room
Adult Services Department, Third floor
Capacity: 4 people